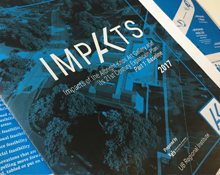 Albright-Knox Art Gallery Impact Study
A comprehensive assessment of the Albright-Knox's baseline and projected economic impacts
UBRI is partnering with the Albright-Knox Art Gallery to conduct a comprehensive economic impact study. The project will identify baseline impacts for the Albright-Knox – one of the oldest art museums on the United States with a world-renowned collection of contemporary and modern art. The study will assess how the Albright-Knox contributes to the economy and the community as a tourist destination, employer, business, cultural anchor, innovator and public art partner. The study will also project how economic impacts will grow as the Albright-Knox implements AK360, a 21st century campus expansion project that will bolster exhibition space, enhance visitor experiences, and more closely integrate the museum within the community.
This research will offer both quantitative and qualitative evidence for the Albright-Knox's range of impacts. Findings will be informed by a survey of visitors to the Albright-Knox, a public art survey, the development of a housing price model, and interviews with innovation partners. These will supplement the collection of detailed revenue, spending and employment data for modeling direct and secondary economic impacts on the local, regional and statewide economies.
Economic impact studies conducted by UBRI develop a baseline of data for benchmarking future growth, in addition to quantifying economic impacts on an economy. These studies can help to inform strategic planning and investments and strategies for growth that yield the greatest economic impacts.
UBRI's study of the Albright-Knox's baseline impacts will be completed by the end of 2017. Projected impacts are anticipated to be complete by early 2018.