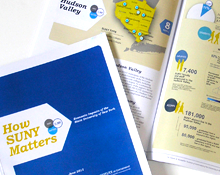 How SUNY Matters
Economic Impacts of the State University of New York
The UB Regional Institute and Nelson A. Rockefeller Institute of Government of the University at Albany have partnered on a major research effort to assess the State University of New York's economic impacts across New York State. The SUNY-commissioned effort explores the broad economic development role of the 64-campus system and sets a benchmark for measuring progress.
The institute conducted a comprehensive economic impact assessment to quantify dollars pumped into the economy, taxes generated and jobs supported by SUNY. The institute's research also captures how SUNY's network of graduates prepares the state's workforce for emerging industries, and how the various institutions – from research universities to community colleges – vitalize the communities in which they operate. The Rockefeller Institute assessed policies, programs and activities across all SUNY institutions to portray the system's role in supporting economic development across the state, including its growing innovation economy.
The effort released its final report on June 1, 2011, at a news conference in Albany with SUNY Chancellor Nancy L. Zimpher. This report will also be the focus of a fall 2011 conference hosted by SUNY to spur national dialogue on the role of higher education in job creation and economic development.
How SUNY Matters- Economic Impacts of the State University of New York