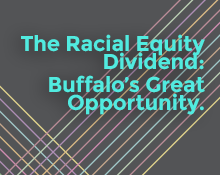 The Racial Equity Dividend: Buffalo's Great Opportunity
In partnership with Make Communities, UBRI developed a foundational research study for the Greater Buffalo Racial Equity Roundtable.
Convened by the Community Foundation for Greater Buffalo, the Greater Buffalo Racial Equity Roundtable is leading the charge to reduce the disparate outcomes and opportunities experienced by regional residents of different races.
The report identifies seventeen indicators that collectively gauge progress in reducing racial equity gaps across: education and workforce preparation; income and wealth; neighborhoods and quality of life; and criminal justice and safety. Further, the report projects the benefits that the entire region will see economically, in more vibrant neighborhoods, and in a higher quality of life when all people have access to the same level of opportunity.
The Racial Equity Dividend Report 2016
---