Smart Growth & Development
Commercial Vacancy Rates and Job Density
---
HOW TO USE THE MAP:

View the
legend
by clicking the arrows at the top-left.

Search
by address or municipality.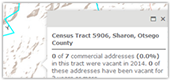 Get
detailed information
on census tracts by clicking any area on the map.
---
View larger map
Definitions & data sources
Vacant Commercial Addresses
Business addresses (including industrial and commercial units) that have been listed as vacant (i.e., not collecting their mail) for a period of 90 days or more as reported by USPS carriers. The data only represents the number of vacant addresses, not the number of vacant buildings (which could contain multiple addresses).The data does not provide the number of vacant commercial addresses listed in the real estate market and ready to be leased. Rather, the data represents the number of addresses where there is no occupant receiving mail, including spaces that may require rehabilitation before they can be reoccupied. The data aggregates the number of commercial vacant addresses to the 2010 Census Tract level and does not provide the precise location of any address reported as vacant. Data are updated on a quarterly basis to revise the duration of vacancy for each vacant address.
More information can be found at http://www.huduser.org/portal/datasets/usps.html
Data Source: U.S. Department of Housing and Urban Development. Aggregated US Postal Service Vacant Address Data, Quarter 3, 2014.