---
About the project
Education as a foundation for success
The Buffalo Promise Neighborhood (BPN) encompasses a 97-block area of approximately 12,000 residents, including 3,000 children ages 0-18. In five census block groups flanking Bailey Avenue, roughly two out of five residents are of school age, or about double the city-wide rate. The neighborhood faces many challenges, with high rates of poverty, crime, blight and teen pregnancy. But this is also a neighborhood bounding with promise, including dedicated community stakeholders, a commitment to education reform and rich physical, cultural and economic assets. BPN is a unique public/private partnership funded by the U.S. Department of Education seeking to improve academic performance at the neighborhood's schools while revitalizing the surrounding community. Through the collaboration and commitment of local leaders in education, business, community services, philanthropy, healthcare and government, BPN is creating a sustainable model for neighborhood revitalization by improving the educational and developmental outcomes of children. To further these efforts, in 2012 BPN received a competitive grant from the Department of Justice, Bureau of Justice Administration's Byrne Criminal Justice Innovation (BCJI) program to develop and implement community-oriented strategies to increase neighborhood safety and neighborhood quality of life.
Buffalo Promise Neighborhood website
Promise Neighborhoods, US Department of Education website
US Department of Justice, Bureau of Justice Administration, Byrne Criminal Justice Innovation (BCJI) program
UBRI Work & Solutions
Understanding the needs of a community
UBRI provided a Needs Assessment Study based on extensive data analysis and input from diverse educational and community stakeholders beginning in 2010. Key data was gathered through a wide range of methods, including consultation with academic, community and institutional sources, a comprehensive review of educational literature and consultation with BPN program residents and designers. Buffalo Public Schools and Westminster Community Charter School provided detailed, student-specific academic and demographic data, which allowed for this analysis to isolate correlative factors and identify trends in academic performance for each student. Our research support has continued with BPN's crime and safety initiative (BCJI program). As a three-year planning and implementation program, UBRI is assisting BPN as it works with residents, block clubs, community organizations, and law enforcement agencies to create and implement a series of community-based, data-driven strategies to reduce crime and improve neighborhood quality of life.
Buffalo Promise Neighborhood Needs Assessment
Buffalo Promise Neighborhood Community Survey – Summary of Findings -Spring 2014
Buffalo Promise Neighborhood Crime and Safety Community Brief – Summer 2014
Buffalo Promise Neighborhood Crime and Safety Community Brief – Spring 2015
---
DEVELOPING KEY INDICATORS

Measuring and tracking from cradle to career
The neighborhood, school and student profiles reveal a community of great promise burdened by signs of economic, physical, social and academic trouble. To obtain a systematic set of measures and provide a basis for comparison to other Promise Neighborhoods, the U.S. Department of Education has specified 12 academic, family and community indicators—measures of performance—on which all Promise Neighborhoods must assess themselves. BPN leaders added two indicators to these dozen—on Teenage Pregnancy and Youth Neither in School Nor Employed—measuring conditions of special concern to the community. Baseline assessments of these 14 indicators provide a yardstick to measure current conditions and track progress from cradle to college and career. Each indicator is valuable in its own right, revealing attributes and allowing comparisons to focus community attention where intervention is warranted or more data collection needed. 
The 14 Buffalo Promise Neighborhood Indicators

---
KEY TRANSITIONS AND MEASUREMENTS
Understanding the continuum of cradle to career development
The assessment also examines indicators in the context of a six-phase continuum, from kindergarten readiness to preparation for college and career to effective parenting for nurturing the next generation. A child travels along a path from cradle to career, passing through six key transitions—moments where they either fall back or surge ahead. Students who do better on the relevant key indicators are more ready for kindergarten, proficient in elementary school subjects, ready for the move from middle school to high school, ready to graduate in four years, and ready for college. By focusing on programs and services that will advance these indicators, we increase the odds of each child's readiness to meet the challenges at each stage along the path.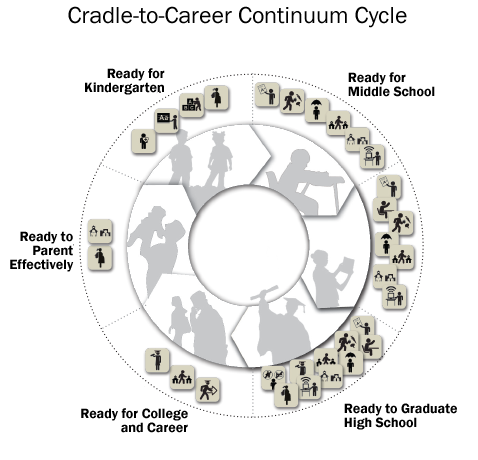 ---
KEY PARTNERS
ADDITIONAL PARTNERS
Belmont Housing Resources of WNY, Inc., Boys and Girls Club of Buffalo, Buffalo PeaceMakers, Buffalo Promise Neighborhood Community Council, Buffalo United Front, Catholic Charities of Buffalo, Center for Employment Opportunities, Community Health Center of Buffalo, Every Person Influences Children, Federal Bureau of Investigations (Buffalo), Nativity Miguel School, NYS Minorities in Criminal Justice, Read to Succeed Buffalo, University at Buffalo Center for Educational Collaboration, University at Buffalo Educational Opportunity Center, University District Block Club Coalition.
---
RESEARCH, DATA AND PARTNERSHIPS CONTINUE
Neighborhood data serves as a catalyst for conversations and partnerships to address crime and safety issues
Building on our existing partnership, UBRI serves as the official research partner for BPN's crime and safety initiative (BCJI program) guiding and informing the process with data and research. Our team works with a range of crime and community-level data, as well as community stakeholders to identify suitable evidence-based practices to address issues evident in the data. Major research activities include a comprehensive neighborhood survey to understand neighborhood resident perceptions of crime and quality of life; spatial analysis of crimes and citizen calls to 911 and 311 to identify historic and continuing crime "hot spots;" and analyzing various data sources and community-level knowledge to identify drivers of crime in the neighborhood. Support for the program has carried forward into implementation. Our team has built tools, such as databases to track progress and a survey instrument for community residents to implement a blight and vacancy windshield survey. We produce research briefs that illustrate to key project stakeholders and the community at-large progress toward reaching implementation goals.
---
UBRI's ROLE IN THE PROCESS
Data collection through neighborhood surveys and data sharing through partnerships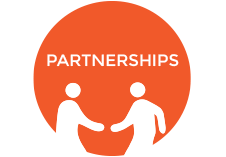 Growing and strengthening partnerships to facilitate engagement and trust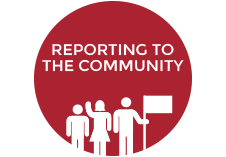 Reporting back to inform, empower and develop targeted solutions grounded in the community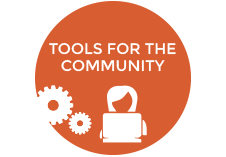 Providing tools for the community to use for measuring progress towards goals
---
MAKING INFORMATION EASY TO UNDERSTAND
Reporting back to the neighborhood to inform and empower
On a quarterly basis, UBRI presents detailed quantitative analysis to a group of law enforcement officers and community representatives working in concert to address street-level crime. This information looks at where crime is clustering, how it varies by day of the week or time of day, and where different types of crime most frequently occur. These in-depth analyses allow stakeholders to gauge progress of targeted police patrols and community-building activities designed to increase safety and reduce blight. Twice annually, UBRI joins Buffalo Police Department officials, BPN staff, and other community organizers at large community meetings designed to inform and engage neighborhood residents. UBRI tailors these presentations of complex crime analysis in ways that are understandable to diverse audiences and distill the key take-aways.